Australian Amphipoda: Leucothoidae
J.K. Lowry, P.B Berents & R.T. Springthorpe
---
Leucothoe commensalis Haswell
Leucothoe commensalis Haswell, 1879: 261, pl. 10, fig. 3. --Haswell, 1885: 101. --Stebbing, 1906: 166. -Stebbing, 1910: 580. --J.L. Barnard, 1974: 89, figs 55-57. --Moore, 1987: fig. 8.
Leucothoe spinicarpus var. commensalis. --Miers, 1884: 312.
Leucothoe spinicarpa. --Sheard, 1937: 20 (in part).
Type material. SYNTYPES (probable): 4 specimens AM G5395; 12 specimens AM P3470 (according to Springthorpe & Lowry, 1994).
Type locality. Port Jackson, New South Wales (33º 51'S 151º 16'E).
Description. Based on J.L. Barnard, 1974: 89, figs 55-57.
Head lateral cephalic lobe without cusp; cephalic keel present, cephalic keel similar in size to epistome; rostrum small to medium in size. Antenna 2 slender. Mandibles and maxillae well developed; mandibular palp 3-articulate. Maxilla 1 palp 2-articulate. Maxilliped ischial endite (outer plate) vestigial or absent, without lateral flange.
Peraeon. Gnathopod 1 coxa large, not hidden by coxa 2, anteroventral corner produced, anteroventral corner truncated or narrowly rounded; dactylus well developed. Gnathopod 2 coxa short, broader than long or at least as long as broad, rounded anteroventrally; carpus with simple apex; propodus palm convex, propodus palm strongly crenulate anterodistally, weakly crenulate to smooth posteroproximally; dactylus, inner margin smooth. Peraeopod 3 coxa longer than broad, anteroventral corner overriding lateral face of coxa 2 and extending freely below it, ventral margin slightly convex. Peraeopod 4 coxa, posterior margin with posteroventral lobe. Peraeopods 5 to 7 basis expanded.
Pleon. Epimeron 3 posteroventral corner subquadrate.
Habitat. Marine; associated with sponges, including Antho (Isopenectya) chartacea, Iotrochopsamma arbuscula, Cymbastella concentrica, Holopsamma laminaefavosa, Halichondria, Phorbas and Phoriospongia cf. kirki and ascidians, including Herdmania momus.
Depth zone. Littoral.
Distribution. New South Wales: Port Jackson (Haswell, 1879); off Manning River, off Coogee, off W ollongong (Stebbing, 1910); Twofold Bay (Hutchings, et al., 1989). Tasmania: d'Entrecasteaux Channel (Moore, 1987). South Australia: Upper Spencer Gulf (Hutchings, et al., 1993).
Geographic areas. South-eastern Australia, or Southern Australia.
Extrinsic distribution. New Caledonia.
---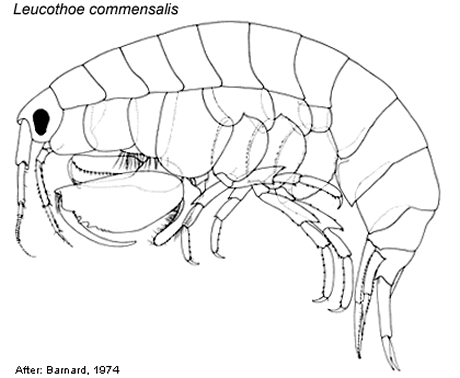 ---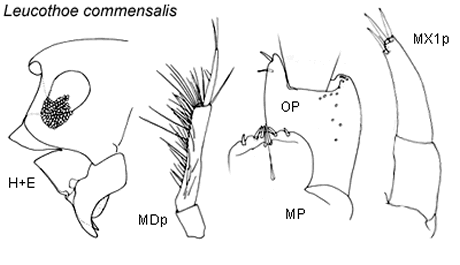 ---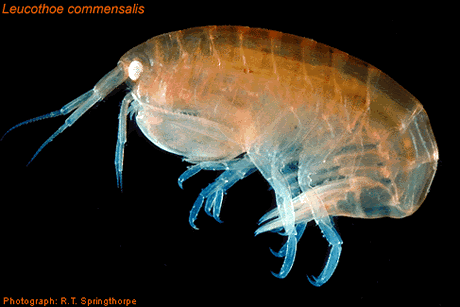 ---
Cite this publication as: Lowry, J.K. P.B Berents & R.T. Springthorpe (2000 onwards). 'Australian Amphipoda: Leucothoidae.' Version: 2 October 2000. https://crustacea.net/'.